Welcome to


Hinewaka


Shorthorns
Hinewaka is the home to David and Pip Blackwood and their four children. Kate, Becky, James and Mitch. The property has been in the family for 5 generations. David and Pip have been farming the home property since 1983.



We are pleased to present a great line-up of bulls at this year's bull sale, with depth throughout the catalogue. Exciting bulls with very good EBVs are represented by sires such as Outback Spry's Balance and Spry's On Target. These two Australian bulls are having a huge impact in our herd. Viewings are welcome prior to sale which will be held on farm at 3pm on 6th June 2018. The catalogue can be viewed on line by clicking the following link

https://www.pivotdesign.co.nz/ebooks/2018/hinewaka-shorthorns-sale/mobile/index.html

READ MORE



This year we have a really exciting line up of quality bulls. Our new sire Sprys on Target will have his first progeny for sale. These bulls are exceptionally thick, easy doing cattle with a really good balance of EBVs. Other sires represented in the sale will be Outback Sprys Balance, Sprys Patent's Ace and Hinewaka Gold. The 25 bulls on offer are one of the most even line of bulls to be presented for sale.

Our 2017 sale catalogue is now available online ad_5s8x_2017-hinewaka-catalogue_pr-3.pdf

You can also see us on our facebook page https://www.facebook.com/Hinewakashorthorns
| | |
| --- | --- |
| This year's Bull Sale will be held on the property on June 8th at 3.00pm. On offer are 22 Shorthorn bulls . Many of the bulls are sired by Sprys Patent's Ace G38 a bull that has made a major impact in the Shorthorn breed in Australasia. He is a trait leader in 8 traits. Also on offer are bulls by our new sire Outback Sprys Balance . Balance has positive fats and is a trait leader for 400 day growth and will leave moderate framed, fast growing cattle. Our catalogue is now available online ad_85fj_2016-hinewaka-catalogue_hr.pdf | |



We are very excited to secure the semen rights with Morton Shorthorns to 'Sprys Patent's Ace G38'. Ace was sold at Spry's 2012 Sale as a yearling for $46,000. He has been described by many as the heaviest muscled yearling bull seen of any British breed in Australia. His dam Nearra Judith 104th is one of Sprys top donor cows and also the mother of Sprys All Gold D052 sold for $25,000 in Spry's 2010 Sale and the sire of several bulls in this year's Hinewaka Sale.

READ MORE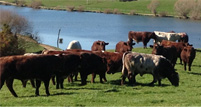 ANNUAL BULL SALE
On-Farm 3pm: June 6th 2018
OUR SIRES
View the Hinewaka Herd
WHERE ARE WE?
Click to View Map
456 Te Wharau Road
Masterton